Before we get into the Google Business Profile tool specifically, let's take a quick look at the importance of Google for anyone in business. This should validate the value of having a good Business Profile on Google.
About Google
Google is famously known for its search engine, which dominates the way people find information on the Internet. Google Search utilizes complex algorithms to index and rank web pages, providing users (people looking for something) with relevant search results based on their queries.
However, Google's offerings extend far beyond searches. The company has grown extensively since its early days of simply being a search engine and has acquired a lot of products, services and companies that have become integral parts of people's lives.
Some of the key areas where Google operates include:
Online Advertising: Google's advertising platform, Google Ads, allows businesses to create and manage targeted online advertising campaigns. It enables advertisers to reach their desired audience through various channels, including search ads, display ads, video ads and more.
Cloud Computing: Google Cloud provides a range of cloud computing services, including infrastructure, storage, data analytics, machine learning, and productivity tools. It allows individuals and organizations to harness the power of the cloud for their computing and storage needs.
Mobile Operating System: Google developed the Android operating system, which powers a significant portion of the world's smartphones and tablets. Android offers an open platform for app developers and has a vast ecosystem of apps available through the Google Play Store.
Productivity Tools: Google offers a suite of business tools called Google Workspace (formerly called G Suite). It includes popular applications like Gmail for email, Google Drive for cloud storage, Google Docs for word processing, Google Sheets for spreadsheets, and more. These tools facilitate collaboration and productivity for individuals, teams and businesses.
Mapping and Navigation: Google Maps provides detailed maps, navigation, and location-based services. It offers directions, real-time traffic information, business listings, reviews, and even indoor maps. Google Earth allows users to explore the Earth's surface with satellite imagery and 3D views.
Video Sharing: YouTube, which is owned by Google, is the world's largest video-sharing platform. It enables individuals and businesses to upload, share, and monetize videos, reaching a vast global audience.
Google's impact on the Internet and technology landscape is huge. It plays a crucial role in shaping how we search for information, connect with others, advertise, collaborate, and consume digital content.
What's interesting is that most entrepreneurs overlook the power of Google and the ways in which you can optimize your visibility and reputation locally and world-wide.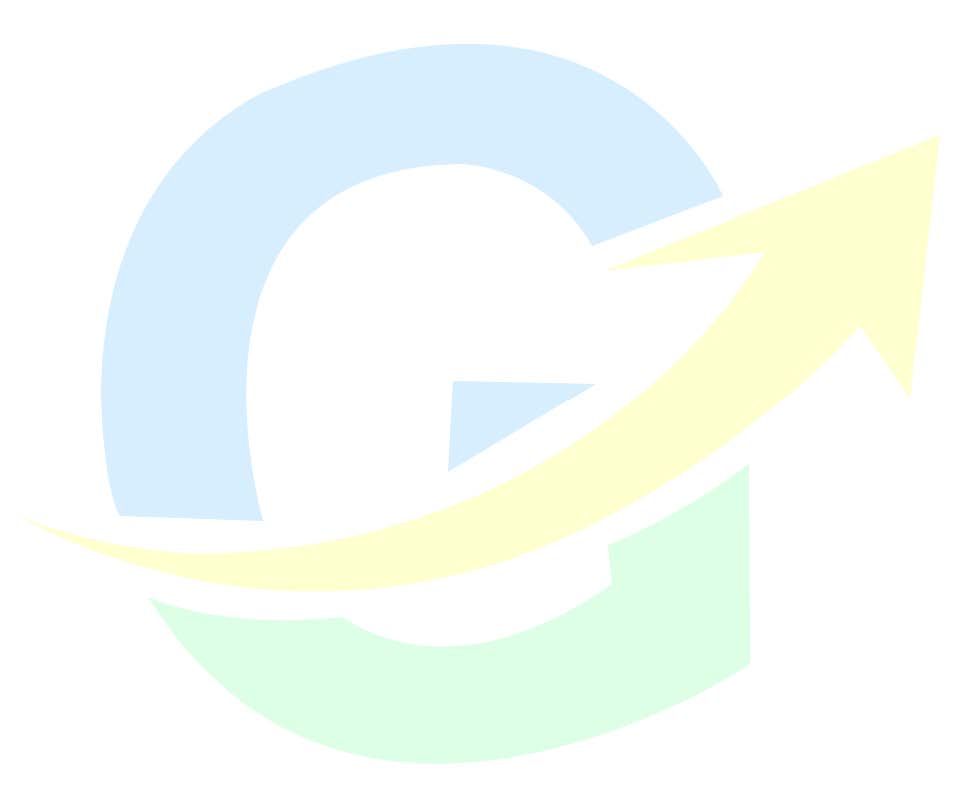 Benefits for Authors and Entrepreneurs
Google offers significant value to authors, entrepreneurs, and businesses in various ways. Here are some specific benefits:
Online visibility and discoverability: As everybody knows, Google is the most popular search engine globally, with billions of searches conducted every day. Google is the big kahuna of search engines. Having a strong online presence on Google increases your visibility and enables potential customers, readers, or clients to discover you easily through search results.
Search engine optimization (SEO): Google's search algorithms determine how websites and content rank in search results. By optimizing your websites, blogs, or online content for search engines, you can improve your chances of appearing higher in search rankings. This drives organic traffic to your website, leading to increased exposure and potential sales.
A little secret most people are unaware of is that if you have a solid Google Business Profile and you include a couple of strategic actions with it, you stand to improve your rankings on Google. This is not written anywhere in Google's documentation. It is something that we have found to be the case. I will share these secrets with you as we move forward with this Google Business Profile mini-guide series.
Google Ads: As an author or entrepreneur, you can utilize Google Ads to create targeted advertising campaigns. By displaying ads on Google's search result pages, you can reach a wider audience and increase brand awareness. Google Ads offers various targeting options, including keywords, demographics, and location, allowing you to tailor your ads to specific audiences.
Google Analytics: Google Analytics provides powerful statistical insights into your website's performance, visitor behavior, and marketing effectiveness. Authors and entrepreneurs can leverage these analytics to track website traffic, measure the success of marketing campaigns, identify audience preferences, and make data-driven decisions to optimize your online presence.
Google Workspace: Formerly G Suite, it is a suite of productivity tools that includes Gmail, Google Drive, Google Docs, Google Sheets, and more. These tools are valuable for authors, entrepreneurs, and businesses, as they offer cloud storage, collaboration features, document editing, and communication tools, enabling efficient workflow management, team collaboration, and seamless communication.
Google Trends: Google Trends provides insights into the popularity and interest levels of specific topics or keywords over time. Authors and entrepreneurs can utilize this tool to identify emerging trends, understand market demand, and tailor their content or marketing strategies accordingly. It helps in staying relevant and capitalizing on current interests.
Google Scholar: For academic authors or researchers, Google Scholar is a valuable resource for finding scholarly literature, research papers, and citations. It allows you to reach a wider academic audience, track citations of your work, and discover relevant research to enhance your own knowledge and publications.
Google Business Profile: Google Business Profile offers a platform for businesses to create and manage their online presence. It provides a range of features and enhances your presence on the Internet, helping authors and entrepreneurs to connect with their audience, improve their reputation, and drive local and online traffic to their books or services.
As you can see, Google offers a wide range of tools and platforms that can significantly benefit authors, entrepreneurs and businesses, and it should not be overlooked. From enhancing online visibility and driving traffic to providing valuable analytics and productivity tools, Google's services empower any person or organization to succeed in the digital world.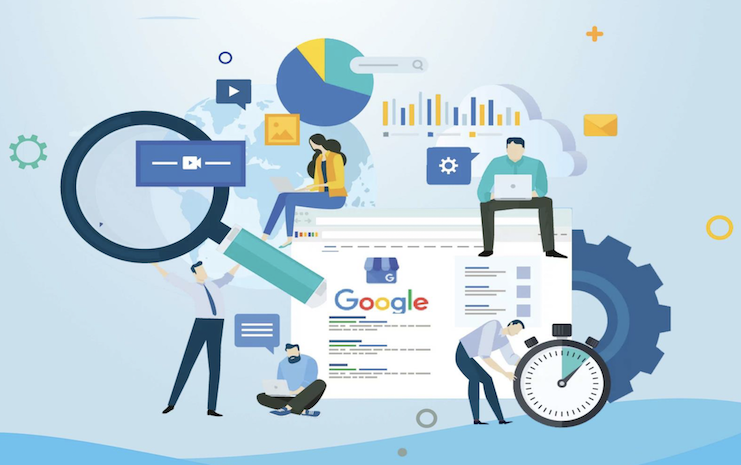 Here are the key benefits and uses of a Google Business Profile:
Business Profile Creation: Enables businesses to create a detailed business profile that appears on Google Search and Google Maps.
Increased Online Visibility: Having a Google Business Profile helps your business to appear in relevant local search results, making it easier for potential customers to find and connect with you. This increased visibility can lead to more website visits, store visits, and inquiries from potential buyers.
Customer Reviews and Ratings: Google Business Profile allows customers to leave reviews and ratings, providing valuable feedback and social proof. Positive reviews can build trust, attract more customers, and enhance the reputation of your business. You can also respond to reviews, demonstrating your commitment to customer satisfaction.
Engagement with Customers: The platform facilitates direct engagement with customers through features like messaging, questions and answers, and Google Posts. You are able to respond to messages, address customer inquiries, and share updates or promotions to keep customers informed and engaged.
Insights and Analytics: Google Business Profile provides valuable insights and analytics about customer interactions, including profile views, search queries, phone calls, and direction requests. These insights can help you understand your audience, measure the effectiveness of their marketing efforts, and make data-driven decisions.
Local Service Ads: Within Google Business Profile, eligible businesses can access Local Service Ads. These ads appear prominently in search results for local service-based businesses, such as plumbers, hair stylists, locksmiths, consultants or business coaches, etc. Local Service Ads can help businesses generate leads and connect with potential customers directly.
In summary, Google Business Profile is a valuable tool for businesses to manage their online presence, engage with customers, and enhance their visibility in local search results. By utilizing its features effectively, businesses can build a strong online reputation, attract more customers, and drive business growth.
Have Your Own Google Business Profile
Now that you can see the importance of utilizing Google to your advantage while your competition continues to flounder and struggle to be noticed, I recommend that you take this step for your career by creating a Google Business Profile.
The power in this is that, when using the right keywords for your web pages, blogs, etc., with a Business Profile, you can do various things like:
• Maintain the correct information about your business on the internet
• Interact with customers
• Attract new customers
Let's take a look at these points in a bit more depth.
1) Maintain the Correct Information About Your Business on the Internet
➢ Ensure that all online information is current and up-to-date: Make sure that all information posted online is accurate, up-to-date, and relevant to your business. This includes product descriptions, pricing, contact information, business hours, and more.
➢ Monitor and adjust content regularly: To keep your online information accurate, it is important to monitor and adjust content regularly. This includes checking for typos or incorrect information, updating product pricing and descriptions, adjusting contact information, and more.
➢ Automate updates: Use automated tools to keep your online information up-to-date and accurate. This includes tools for website management, e-commerce platforms, and other online applications.
➢ Respond to customer inquiries promptly: Respond to customer inquiries promptly and accurately. This helps to ensure that customers receive the correct information and can help to build trust and credibility.
➢ Monitor online reviews: Monitor online reviews and ratings to ensure that customers are providing accurate and up-to-date feedback. This can help you identify areas of improvement and ensure that you are providing a great customer experience.
2) Interact with Customers
The best way to interact with customers for a Google business profile is to respond to customer reviews, respond to messages, and use Google Posts.
➢ Respond to Customer Reviews: Google allows customers to leave ratings and reviews for your business. Responding to these reviews can help build trust and credibility for your business and establish a relationship with customers.
➢ Respond to Messages: Google allows customers to send messages directly to your business. Responding to messages in a timely manner is important to show that you are engaged and interested in providing customer service.
➢ Use Google Posts: Google Posts are a great way to engage with customers and share content related to your business. These posts can be used to promote events, special offers, new products, and more.
3) Attract New Customers
➢ Optimize Your Profile: Optimizing your profile will help potential customers find your business and learn more about what you offer. Make sure to use keywords and phrases relevant to your business and industry so your profile can be easily found in search results.
➢ Include Photos and Videos: Photos and videos are a great way to engage potential customers and give them a better understanding of your business. Upload high-quality images and videos to your profile to give customers an inside look at your business.
➢ Utilize Ads: Utilizing Google Ads can be a great way to reach potential customers and bring them to your website or profile. You can create targeted campaigns to reach potential customers in your area and around the world.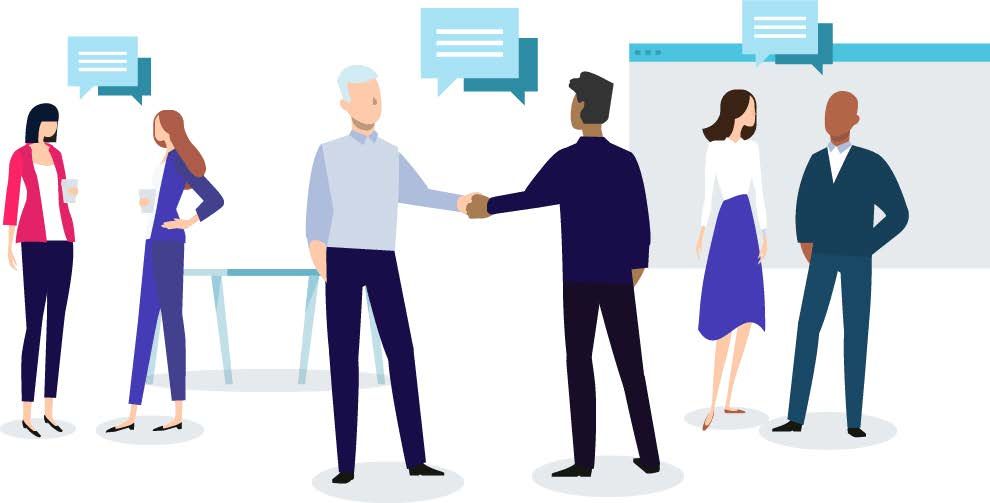 Understanding Google Business Profile
A Google Business Profile is a way to make your business stand out on Google. It helps you get leads and turn them into customers for a physical store or a service area. Thgis includes beoing an author or entrepreneur with an office.
So, if you're a consultant, for instance, you can either increase walk-in business or simply help establish your professional presence by showing potential customers that you are a legitimate business.
When people search on Google Search and Maps, they can find you and learn more about your business through your profile. You can personalize your profile with photos, offers, and posts to make it more appealing. So this gives you yet another way to promote your books if you're an author.
A Google Business Profile gives legitimacy to any business whether physical or online. It appears when people search for your business on Google, displaying important information like contact details. It also includes a review section where customers can share their experiences and interact with your business. Responding to reviews can help improve your service.
Having a Google Business Profile makes your business more visible in Google search results. You can enhance your profile by adding attractive photos, videos, and additional information. It is an essential part of your online presence, helping customers find your business easily and providing you with a simple way to manage your online identity.
With a Google Business Profile, you can:
Create and manage your business profile on Google.
Control how your business information appears across Google.
Update important details like hours, contact information, and photos.
Engage with customers by sharing news, events, and updates.
Respond to reviews, messages, and customer questions.
Gain insights into how customers are interacting with your business online.
People are suspicious of businesses until they have had a positive experience with them. Seeing positive reviews, friendly pics and videos, and other activity is very powerful for you, especially when most of your competition won't even bother to create a profile.
That's another point as well … a well done profile page will show up at the top of Google's search results for many keywords that you might never have seen the light of day otherwise.
You don't need to download any additional apps. You can manage your Google Business Profile through the Google Maps app on your mobile device or directly through Google Search on your desktop browser.
In summary, Google Business is an accessible and valuable tool for businesses. By taking control of your online presence, optimizing your profile, and engaging with customers, you can showcase your business effectively and reach your target audience.
Does it Cost Anything?
Nope. Google Business Profile is absolutely free to use!
To get started with your Google Business Profile, you'll need to create a Google Business account. Once you have an account, you can easily add important information about your business, such as contact details, operating hours, and the services you offer. You can also enhance your profile by adding photos, videos, making regular updates, and providing a link to your website.
Having a Business Profile enables you to connect directly with customers, respond to reviews, effectively manage your online presence, and promote your business. It's an excellent way to build trust with potential customers and boost your visibility in the online world.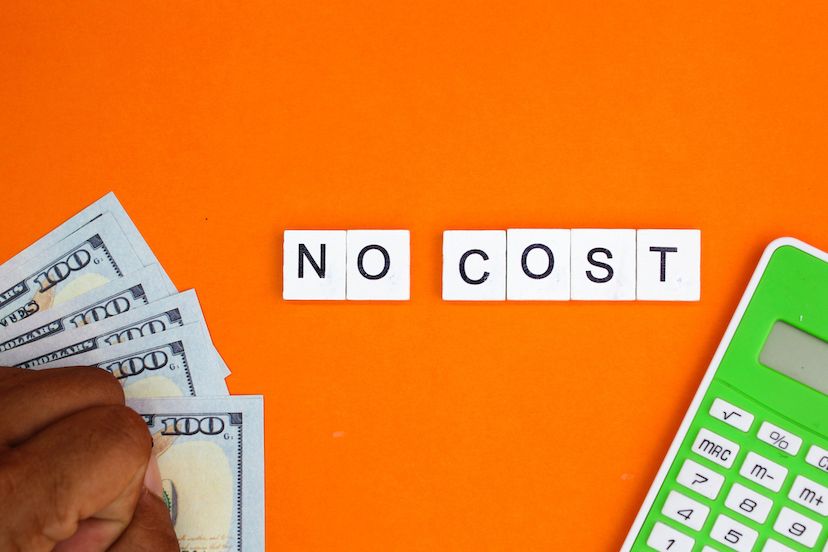 Note of Additional Options
The basic features of a Google Business Profile are available for free. However, Google does offer additional advertising and promotional services that businesses can choose to pay for. While these paid options are separate from the core Google Business Profile, they can complement your online presence and provide additional benefits. Here are a few paid options that may be available:
Google Ads: Google Ads is an advertising platform that allows businesses to create and manage paid advertising campaigns. By utilizing Google Ads, you can have your business appear in prominent positions on Google's search result pages or on websites within the Google Ads Network. This can potentially increase your visibility and drive targeted traffic to your website or business.
Local Services Ads: Local Services Ads are a specialized advertising format offered by Google, primarily targeting local service-based businesses such as plumbers, electricians, or home service providers. These ads appear at the top of search results when people search for relevant services in their area. Local Services Ads can help you generate leads and connect with potential customers directly.
Promoted Pins on Google Maps: Google Maps offers businesses the option to have their locations or listings promoted through "Promoted Pins." These pins can appear prominently on Google Maps, making it easier for customers to find and visit your physical business location.
It's important to note that these paid options are not required in order to have a Google Business Profile, and many businesses achieve success without utilizing them. The core benefits, including online visibility, customer engagement, and managing business information, remain available at no cost.
However, if you have specific advertising goals or want to enhance your marketing efforts further, exploring paid options like Google Ads, Local Services Ads, or Promoted Pins on Google Maps may provide additional benefits and opportunities for your business. It's advisable to carefully evaluate the costs and potential returns before deciding to invest in paid advertising options.
Setting Up Your Google Business Profile
Here are the detailed steps to set up a Google Business Profile:
STEP 1: Visit the Google Business Profile website
Go to the Google Business Profile website at https://www.google.com/business/.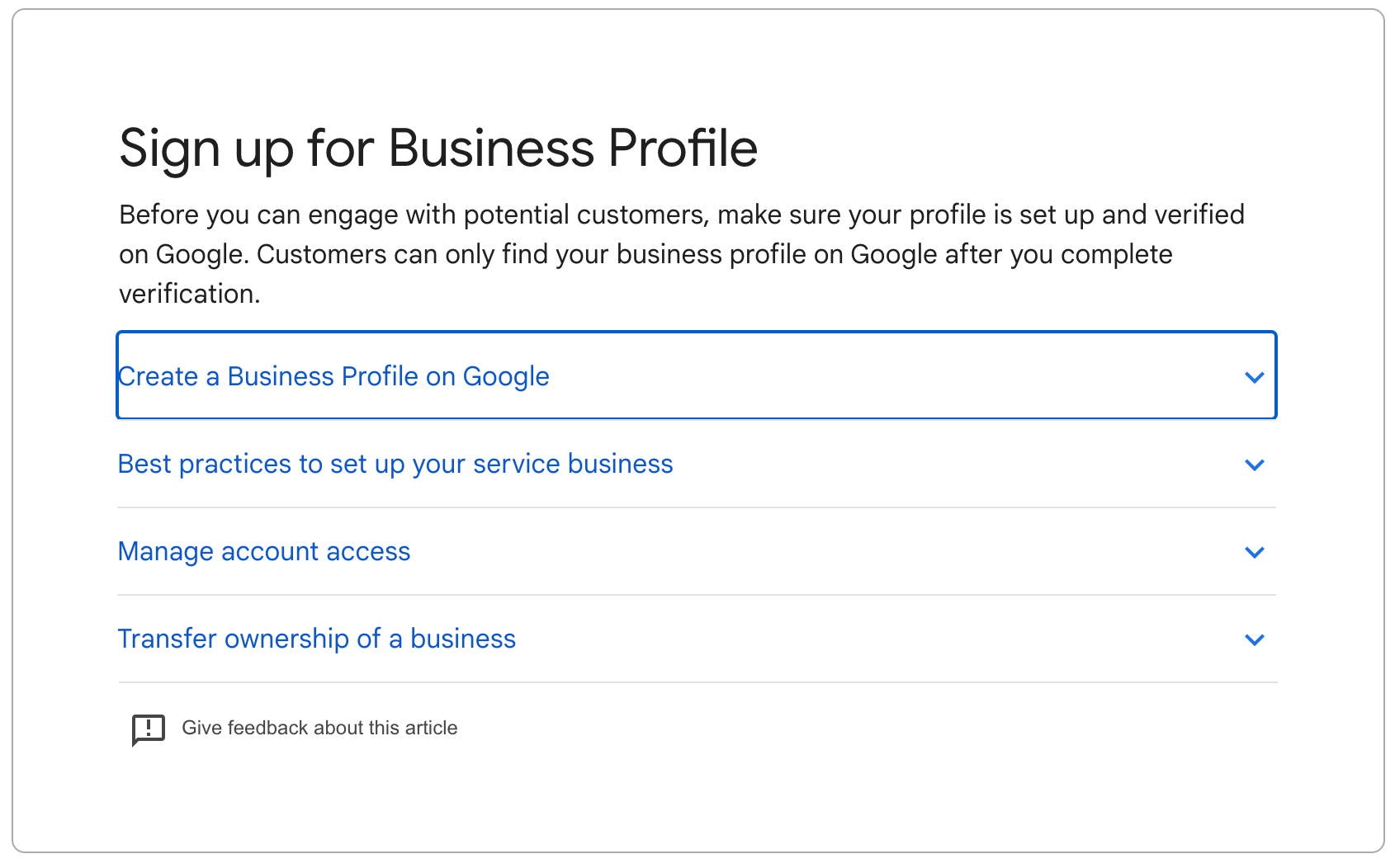 STEP 2: Sign in to your Google Account
Click on the "Manage now" button on the page. If you don't have a Google Account, you'll need to create one by clicking on the "Sign up" link.
STEP 3: Enter your business name
Type the name of your business in the provided field. You might be able to select your business from the list of suggested businesses as you type.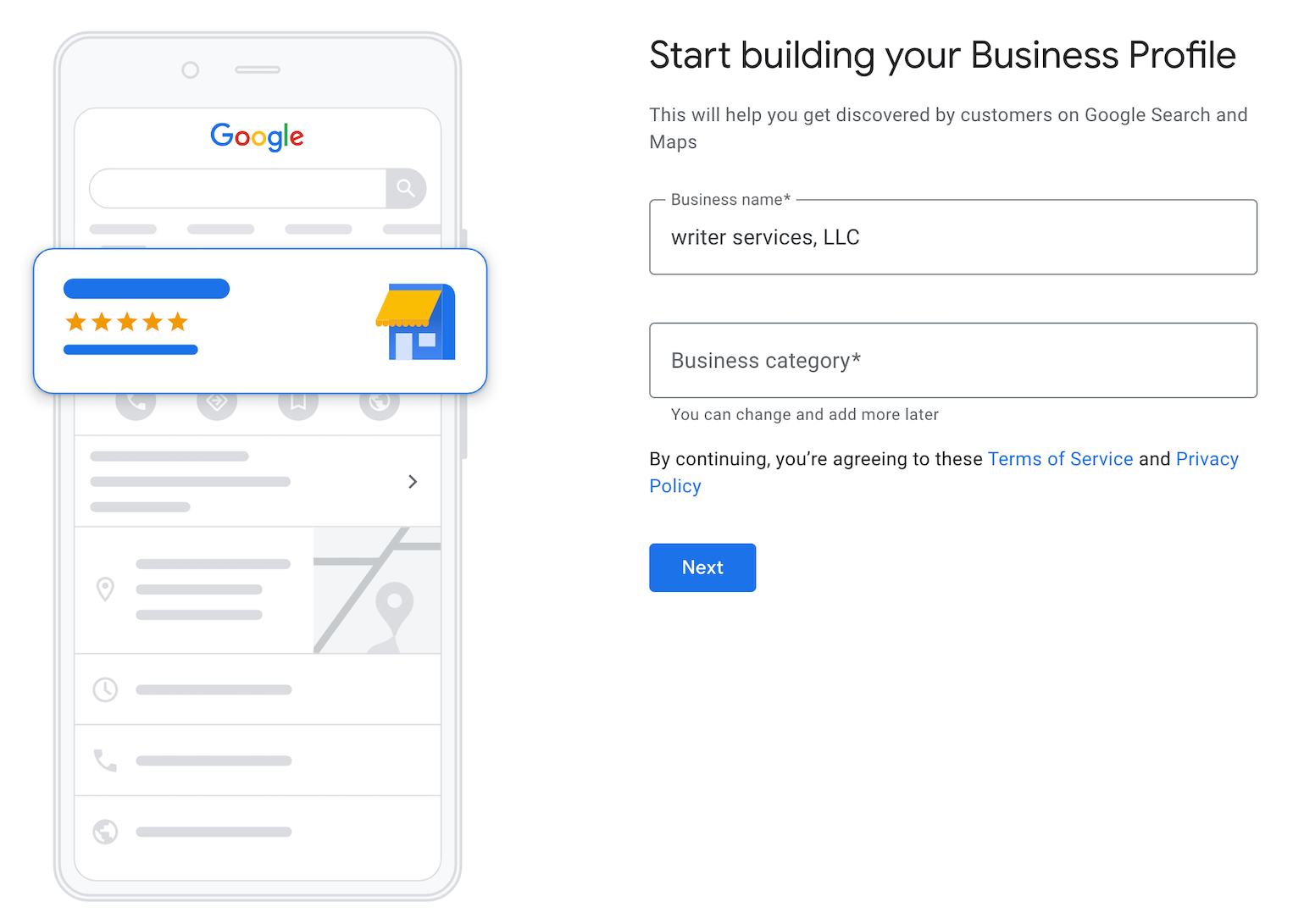 STEP 4: Specify your business category
Select the category that best represents your business from the suggestions provided by Google. You can start typing in the category field to see available options.
Click the Next button.
STEP 5: Add your business location
If you have a physical location that customers can visit, enter your business address. If your business doesn't have a physical location or you provide services at customers' locations, select the option for "I deliver goods and services to my customers" if prompted to.
Choose whether you have a location customers can visit.
For businesses with a storefront staffed during business hours: Click Yes.
You may be asked to enter your business address or position a marker on a map for the location of your businesses. When finished, click Next.
For businesses that don't have a storefront staffed during business hours: Click No.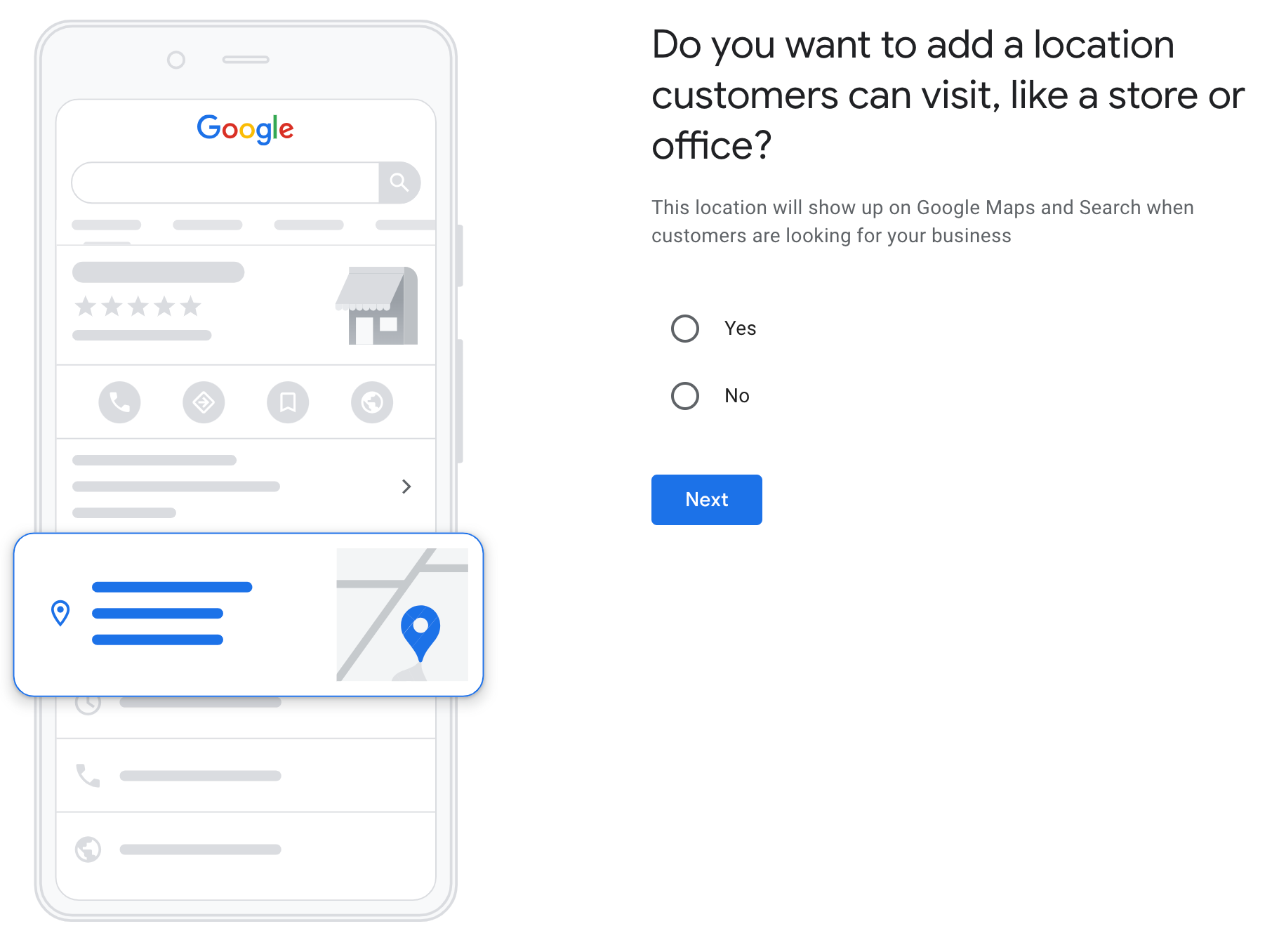 Click the Next button.
STEP 6: Specify your service area (if applicable)
If you selected the option to deliver goods and services, indicate the specific areas you serve, such as cities, regions, or postal codes.
You can set your service area based on the cities, postal codes, or other areas that you serve. You can add up to 20 service areas.
Tip: Google recommends you do not extend the boundaries of your overall area farther than 2 hours driving time from where your business is based. For some businesses, it may be appropriate to have a larger service area.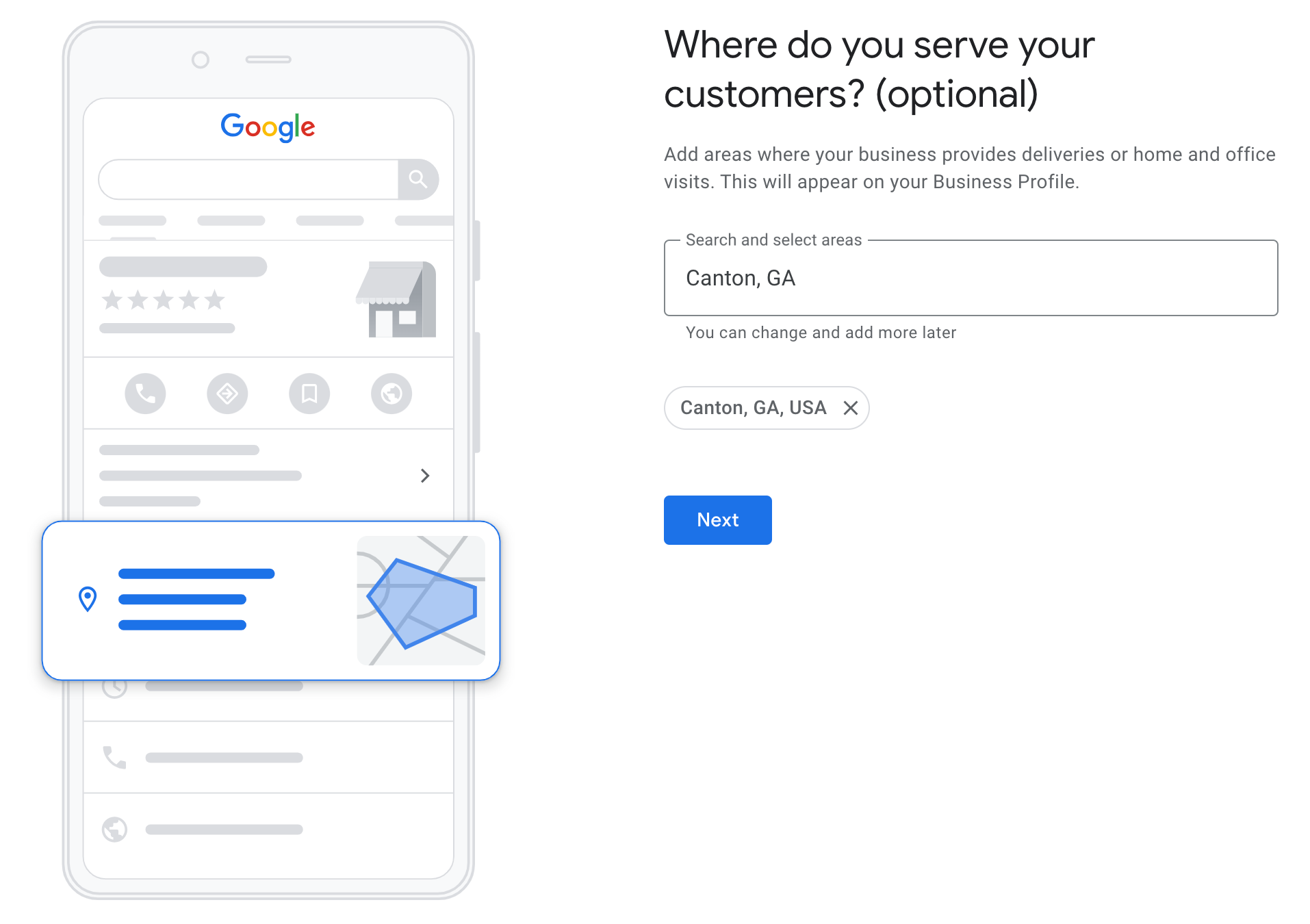 Click the Next button.
STEP 7: Add contact details
Enter your business phone number and website URL. These details will be displayed on your Google Business Profile.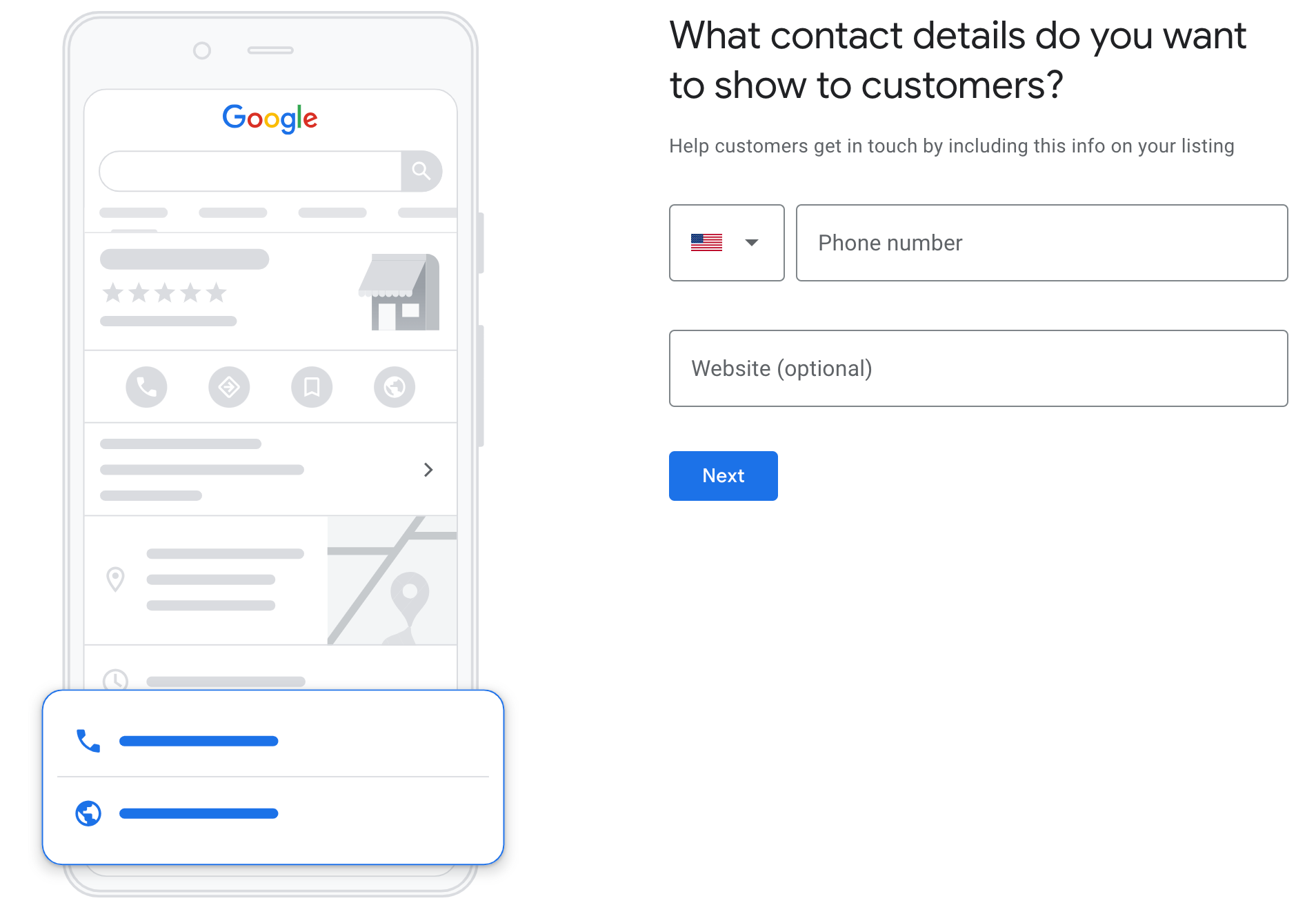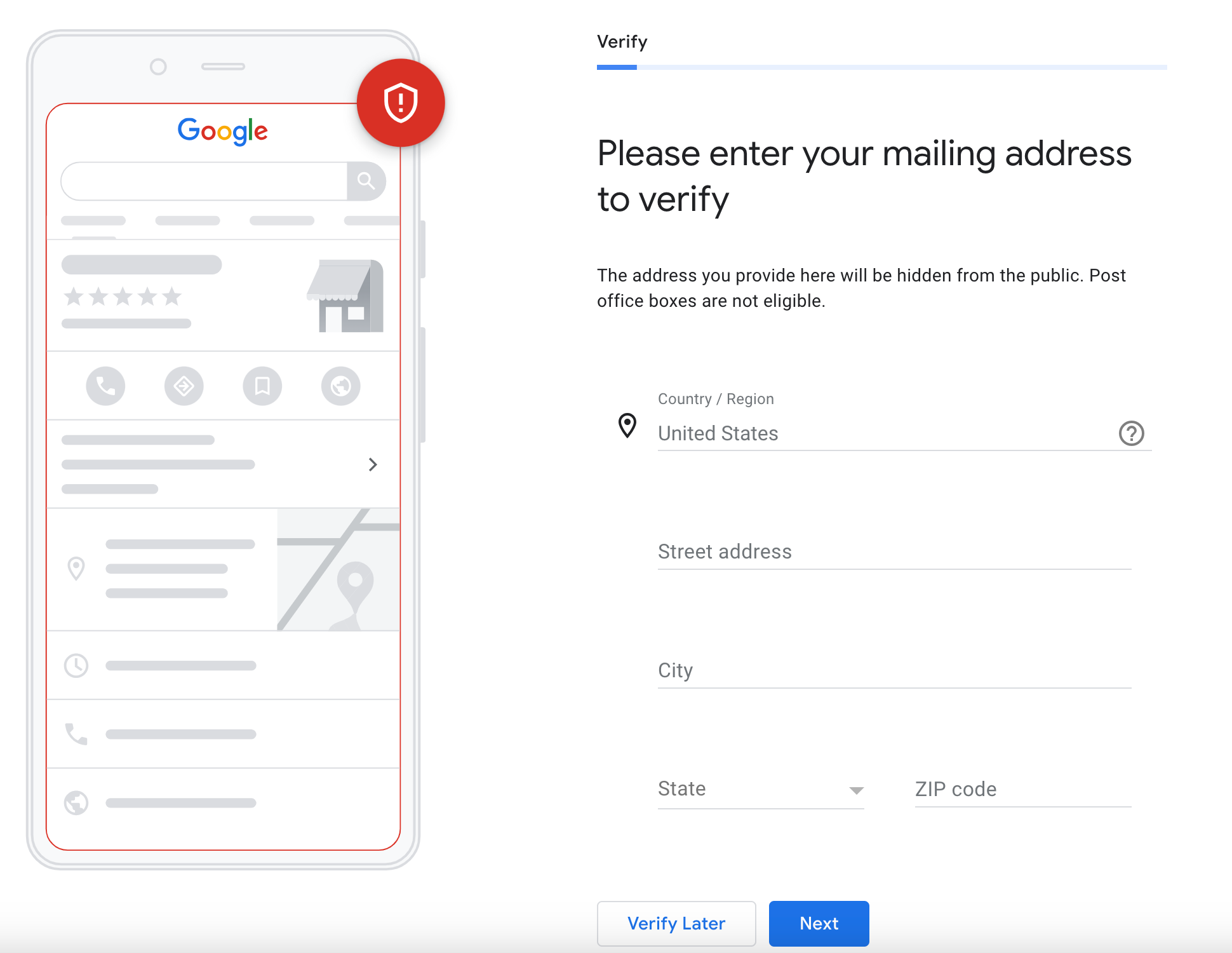 STEP 8: Choose verification method
Google requires you to verify your business to ensure you are the authorized representative. Choose the verification method that works best for you. The available options may include postcard verification, phone verification (in select countries), or email verification (for certain business types).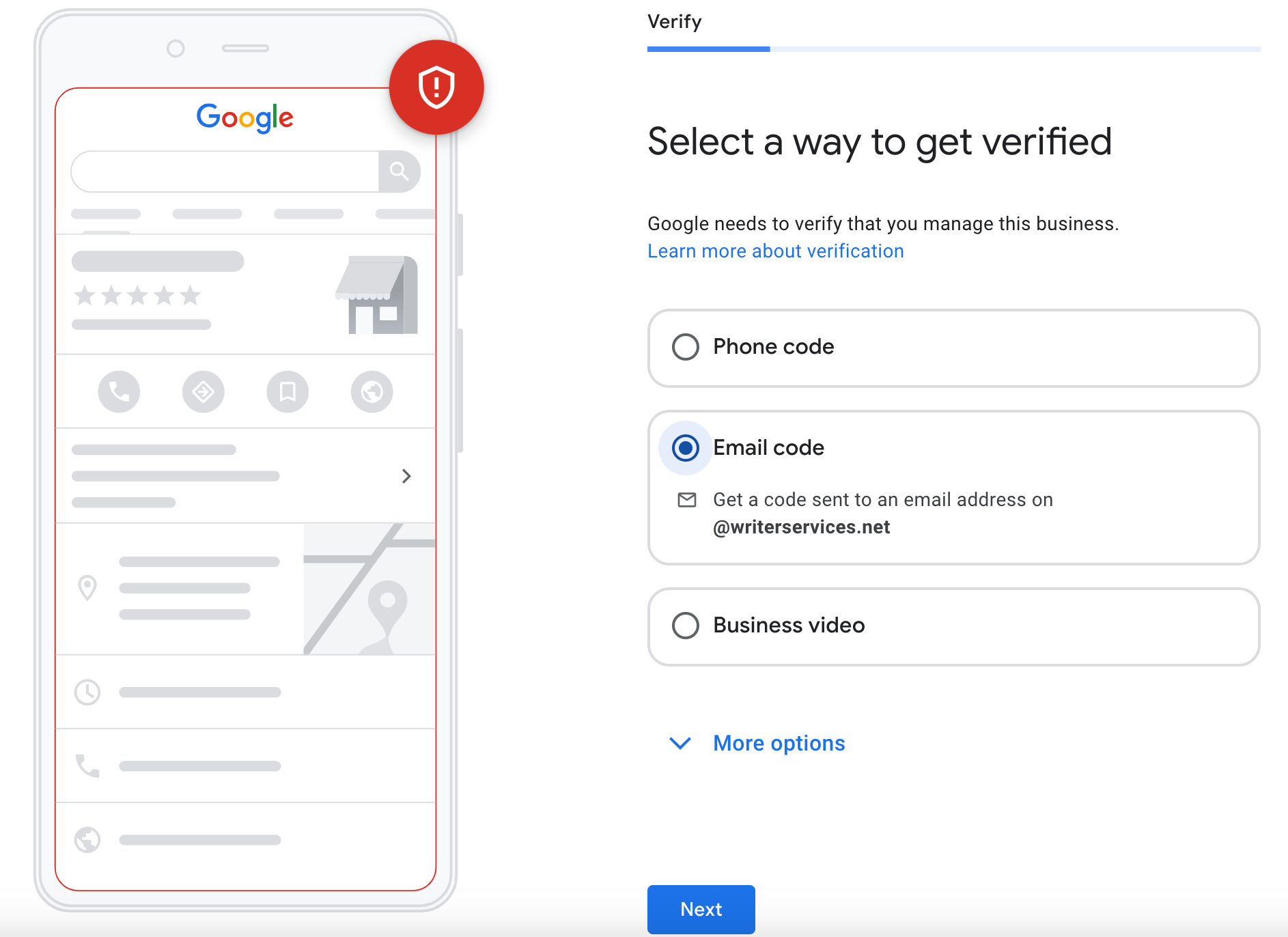 STEP 9: Choose verification method
Input the email address or cell phone you want the code to come to. If you select Phone code or Email code, you will receive an instant code from Google.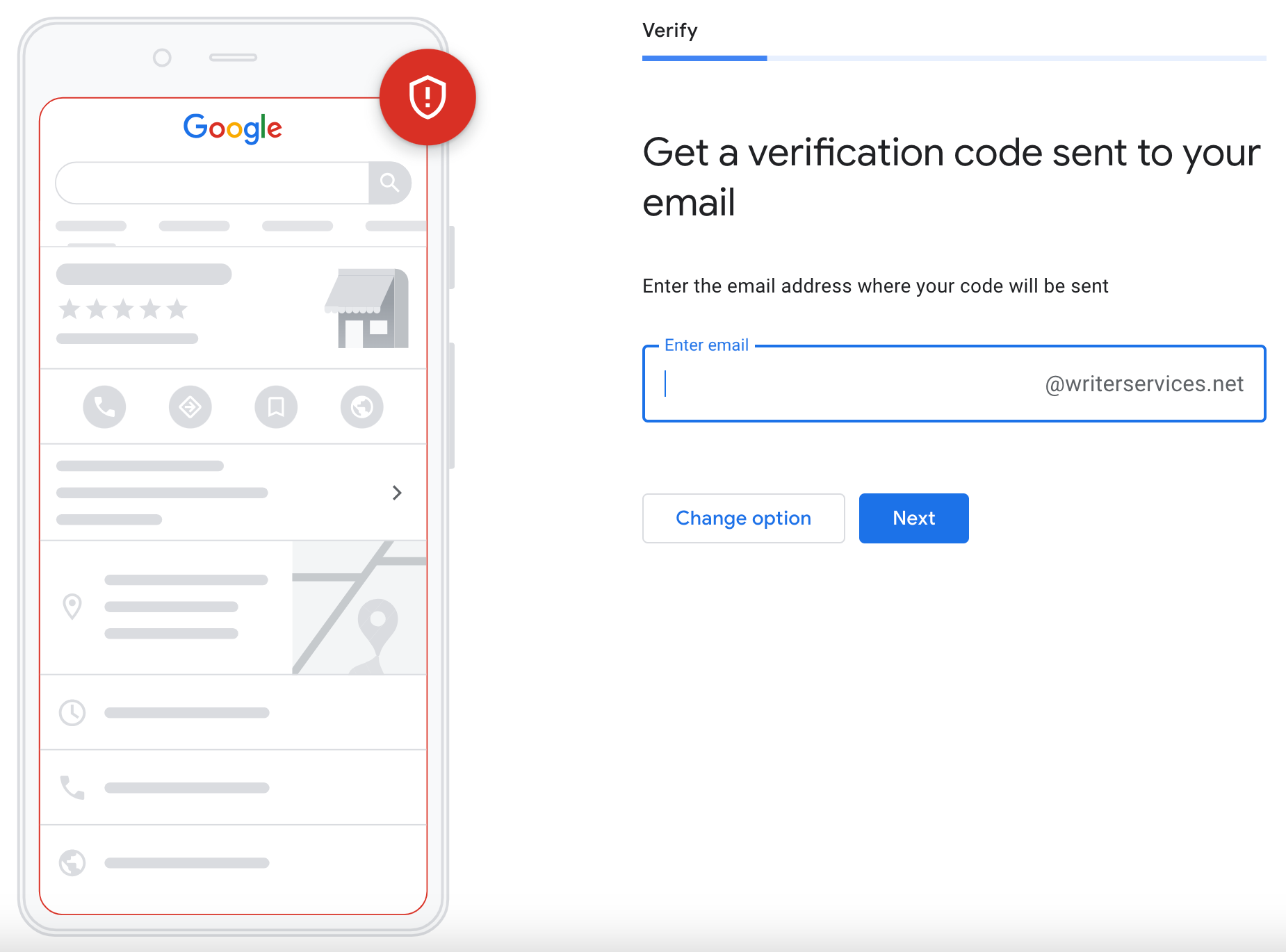 STEP 10: Copy the code
Copy the 5-digit code you received and paste (or type) it into the verification field and click the Verify button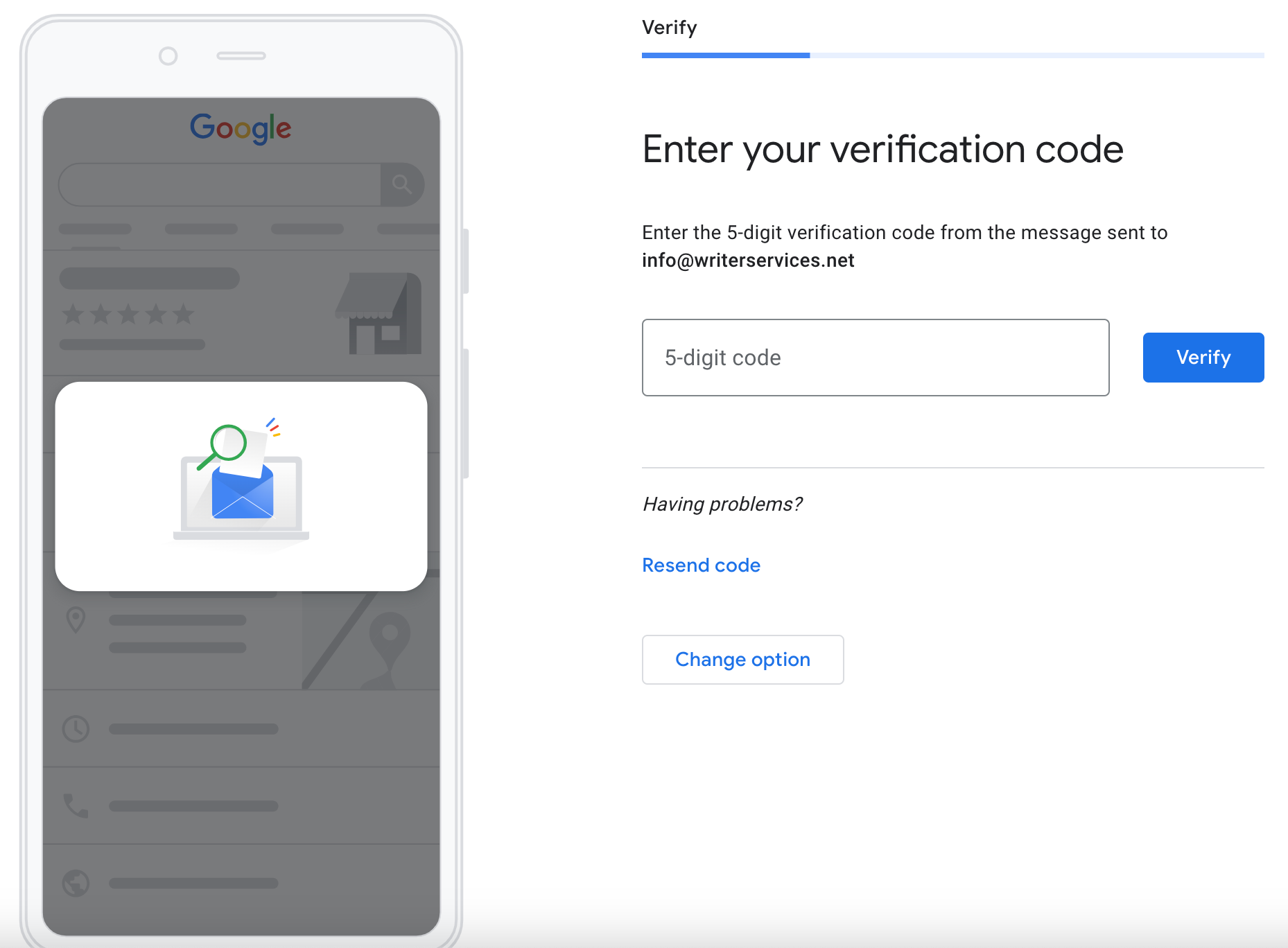 STEP 11: Confirm your business details
Google recommends that you review your information before you request verification. Review the information you've entered, including your business name, category, location, and contact details. Make any necessary edits before proceeding.
That's it! Your Google Business Profile account is now set up!
In the next guide, we will take a deeper dive into Google Business Profile.
To Your Success!
Robert Nahas
Copyright 2023 Robert Nahas. All Rights Reserved.